The aims of the IAWR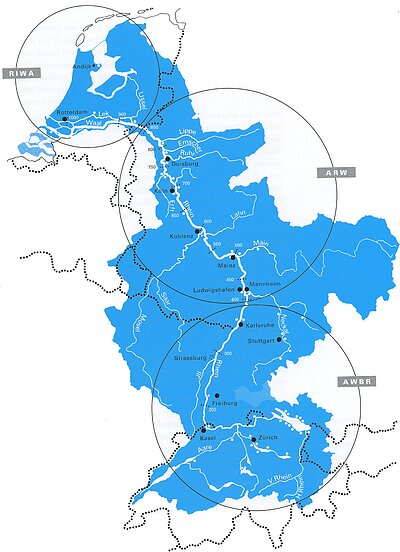 The aim of the IAWR is to protect the Rhine, its tributaries and the lakes in the Alpine foothills so that so that it is possible to supply drinking water from them using natural treatment methods only.
The IAWR feels responsible for the sustainable management of these water resources and has set out the ideals it stands for in the form of ten guiding principles.
Around 120 waterworks in the six countries along the Rhine, Austria, Switzerland, Liechtenstein, France, Germany and the Netherlands, provide roughly 30 million people with drinking water.
The International Association of Water Works along the Rhine (IAWR) is an umbrella organization for its members:
ARW - Arbeitsgemeinschaft Rhein-Wasserwerke e. V., (Rhine Waterworks Working Group),
AWBR - Arbeitsgemeinschaft Wasserwerke Bodensee – Rhein (Working Group of Waterworks – Lake Constance/Rhine) and
RIWA - Vereniging van Rivierwaterbedrijven (Dutch River Waterworks Association)